I am feeling deep gratitude to my spiritual director Dennis Gibbs, who listened to my poetry today and encouraged me to write another poem of grief. I went to the Huntington Garden, a place where I loved to spend time with my late wife Kathleen, and this poem came to me by a lily pond where we used to hang out. I am also grateful to my men's group, "Brothers on a Journey," where I learned that scientists have identified at least three types of tears, though of course we know there are infinitely more. And also my thanks go to Rose-Lynn Fisher, for taking these stunning pictures of tears...
Tears of timeless reunion
Scientists say there are three types of tears,
Or maybe seventeen, depending on the study.
I'm sure I've known them all,
And probably you have, too.
I'm no expert, but no novice, either.
We all have known the tears that lubricate,
Tears that implicate, tears that extricate,
Intricate tears of feelings
too subtle for words.
The not so subtle tears we cried
when we were children
and didn't get what we wanted,
The tears we cried as adults
when we got what we wanted,
but not what we expected.
Tears of laughing till we cried,
tears of grieving till we wished to die,
Bitter, sweet, healing tears….
Each with its own chemical and emotional composition.
Basal tears,
reflex tears,
psychic tears.
Tears that appear under a microscope
like an amazing landscape
I'd like to explore, but not alone,
Maybe with you, if you are willing to go with me
To lush and verdant places
watered with tears,
Lovely beyond words
when studied under a microscope….
Who knew that heartbreak magnified
could seem so wondrous?
I'm such a novice after so many years,
So many tears.
Still learning the landscape of the heart,
So many variables, twists and turns,
so many questions….
Like, what are tears of timeless reunion?
Who but a specialist knew such tears existed?
As I sit here with my notebook,
alone,
Remembering how we came here once,
And sat together
as if
we were going to enjoy this scene forever….
This timeless lily pond,
surrounded by bamboo,
Turtles sunning themselves,
a black bird surveying its world,
A koi that leaps unexpectedly,
ecstatically out of the water….
Could this pond have been made from tears
My friends and neighbors shed alone,
Afraid to share their grief with anyone?
The waters seem so pure and clear,
Reflecting the trees and sky…..
Thoreau once called a pond like this "the heaven's eye"….
Or is it earth's eye, filled with heaven's tears?
What kind of tears did God shed when He saw
His precious one nailed to a cross,
Or sees his children murder in His name?
Are they tears of grief,
tears of frustration?
Tears of rage,
An ocean of tears that Noah floated on
for forty nights, or was it forty years?
A river of tears in which we plunge ourselves
in hopes of drowning,
The tears that change our hearts of stone into
A bird that sings:
"My precious my beloved one!"
I offer you these tears as a gift,
The most precious gift I know,
The essence of this broken, unspeakably beautiful life.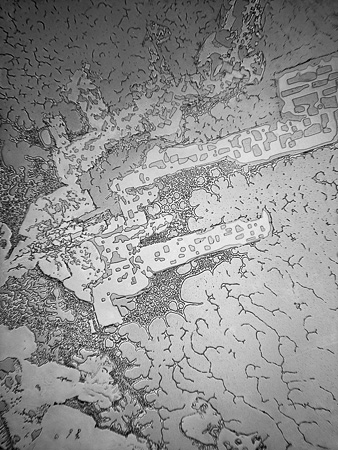 Amazing Images of Human Tears Under the Microscope by Rose-Lynn Fisher - Sublime99. Timeless Reunion ...